Technical Analysis- Gulden new Save Haven!?
Technical Analysis- Gulden new Save Haven!?
Hello !
As expected, BTC started to go down and most alt-coins went down too. Except a few coins, amongst which Gulden (https://www.gulden.com)
NLG hit half a million in trading volume: impressive !
The wedge overshoot worked as intended and the Wolfe wave is at play.
For this who missed the train, steepest TL (trendline) shall be broken and will offer buying opportunities for those already in putting your trades in BE is wise and just SIT ON YOUR HANDS and let you'r winner run, Wolfe wave completion will offer good timing for (partial) profits (blue dotted line).
My "prediction" (= my trading plan) so far is price will exceed 5500 sat and most probably (= their is no such thing as certainty in markets !) set a new high for the year in some sort of hedge (might be the end of push 2).
This plan is quite conservative as push 2 (Elliot wave 3) is generally the 'bump' phase and can last longer than you would think.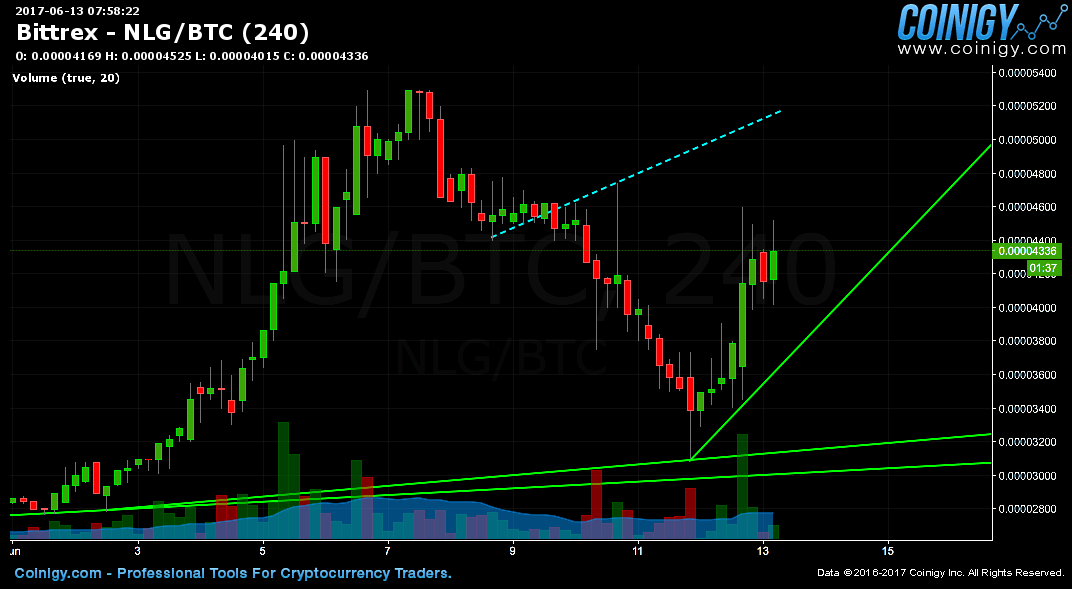 Side notes:
Gulden acted as a safe-heaven currency both because NLG was in a bearish wedge inside a bullish trend and BTC was going down.
Growth of the latest weeks in the currency are quite impressive, and one could expect it to continue with all news projects coming before the end of the year.
Bittrex sucks; so far exchanges in general are quite disappointing: delay, slow execution, expensive, etc. This MUST change before big money will be willing to get inside crypto. People seems happy crypto passed 80 billions in market cap: this is tiny compare to the 5 trillions exchange daily on EUR/USD (like less than 2% of the daily volume of this pair !).
Have fun, be safe; good day to you all !
TCL, Cédric